GLP JOINT LABORATORY
The "GLP Joint laboratory" is co-founded by Hangzhou Ruijiang Chemical Co.,Ltd. and Zhejiang Province Chemical Products Quality Inspection Station. Take advantage of the best customer service and the best technical support. Our vision is to establishment of a first-class, internationally recognized GLP laboratory for physical-chemical study, engaging in analysis of five batches and physical-chemical properties, providing detailed and accurate data and high-quality GLP reports for domestic and foreign registration.
As a third-party testing/inspection facility, it is engaging in analysis of chemical products including pesticides and fertilizers, study of physical-chemical properties, identification of carriage goods, identification and classification of dangerous chemicals professionally.
"GLP Jonit Lab" has been accredited and authorized as a specialized testing facility by AQSIQ, ICAMA, Ministry of Industry and Information Technology, Ministry of Environmental Protection, State Administration of Work Safety, Civil Aviation Administration of China.
"Quality first, customer supreme" is our quality policy.
We will unswervingly provide quality, efficient, professional and fair third-party testing technology services for customers based on strict internal management, outstanding expert team, high technical level and advanced testing equipment.
PHOTOS OF LAB

CERTIFICATE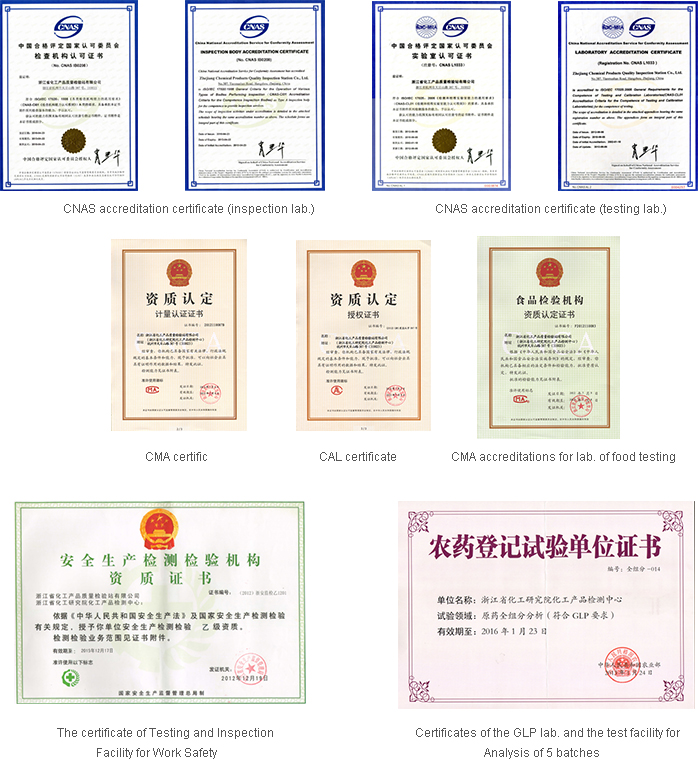 INSTRUMENT
HPLC

GC

Preparative Chromatograph

Ion Chromatograph

UV/VIS spectrophotometer

GC-MS

LC-MS

IR

NMR

Oxygen bomb calorimeter

DSC

TGA

MINIFLASHFLP

Automatic surface tension tester

Automatic melting point apparatus

Automatic ebulliometer

Friction sensitivity tester

Impact sensitivity tester

Koenen tester
HPLC

GC

Preparative Chromatograph

Ion Chromatograph

UV/VIS spectrophotometer

GC-MS

LC-MS

IR

NMR

Oxygen bomb calorimeter

DSC

TGA

MINIFLASHFLP

Automatic surface tension tester

Automatic melting point apparatus

Automatic ebulliometer

Friction sensitivity tester

Impact sensitivity tester

Koenen tester